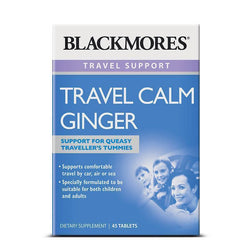 Blackmores Travel Calm Ginger 45 Tablets
Only 4 in Stock. Be Quick!
General Information
Non drowsy formula suitable for both adults and children that helps to settle queasy tummies. Blackmores Travel Calm Ginger is a travel aid that uses ginger root to settle tummies that are queasy from travel or movement. Take it prior to travelling to help with stomach upsets associated with motion. Travel Calm Ginger is specially formulated for anyone over six years old so it's suitable for the whole family plus it's a non-drowsy formulation, so you won't miss a minute of your planned activities.
Warnings
If symptoms persist, see your healthcare professional.
Common Uses
Non-drowsy formula to settle queasy travellers tummies.
Ingredients
Zingiber officinale (ginger) root powder 400 mg
Directions
Adults – Take 2 to 3 tablets ½ an hour before travelling; then 1 tablet every 2 hours as required. Children 6-12 years – Take 1 to 2 tablets ½ an hour before travelling, then ½ to 1 tablet every 2 hours, as required. Children under 6 years – Only as professionally prescribed.