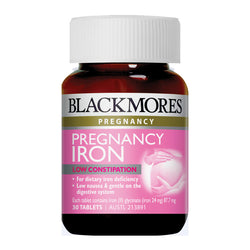 Blackmores Pregnancy Iron 30tabs
Only 0 in Stock. Be Quick!
Blackmores Pregnancy Iron has been developed specifically for pregnant women containing iron as the only active ingredient. It may assist in the management of dietary iron deficiency and contains a special low nausea, low constipation form of iron that is gentle on the digestive system.
Why use
May assist in the management of dietary iron deficiency
Gentle on the digestive system – a low constipation, low nausea form of bioavailable iron when taken with food
Supports healthy energy levels when iron levels are low
Ingredients
Iron (II) glycinate (iron 24 mg) 87.7 mg
Directions
Adults: Take 1 tablet daily with meals, or as professionally prescribed
Warnings
Not for the treatment of iron deficiency conditions. Drink plenty of water. Consult your healthcare professional before taking with any other product containing iron. If you have any pre-existing conditions, or are on any medications always talk to your health professional before use Some products should be ceased at least two weeks before any elective surgery, please confirm with your health professional