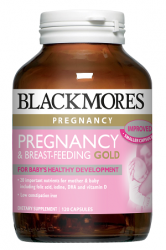 Blackmores Pregnancy & Breast-Feeding GOLD Capsules 120caps
Only 0 in Stock. Be Quick!
Blackmores Pregnancy & Breast-Feeding Gold

 
is specially developed to provide 20 essential nutrients, including iodine, that may be beneficial for a mother and her developing baby.
Features & Benefits:
Provides 20 important nutrients for pregnant and breastfeeding women and their babies, including 12 vitamins, 7 minerals and odourless omega-3 fatty acids

Low-constipation and low-nausea form and dose of iron (ferrous bisglycinate)

Iodine dose based on recommended New Zealand pregnancy supplementation guidelines.  Iodine promotes healthy development of baby's brain, eyesight & hearing.

Provides vitamin D3 to support calcium absorption to assist with healthy development of baby's bones.

Odourless fish oil with high purity and quality without fishy aftertaste. 

Omega-3 essential fatty acids promote healthy development of baby's brain & eyesight.

Contains betacarotene (no vitamin A)

Smaller, easier to swallow, vanilla flavoured capsules
Additional Information:
Research shows many New Zealand mothers do not consume sufficient amounts of the right nutrients during pregnancy and breastfeeding.
 
The latest national nutrition survey found inadequate intakes of iron, calcium, selenium, B group vitamins and vitamin A amongst women of childbearing age.  In a study of pregnant New Zealanders in 2009, almost all participants were found to have intakes of vitamin D, folate, iron, and selenium below the estimated average requirement.
 
Adequate nutrition during pregnancy has been shown to influence pregnancy outcome.  Normal growth and development are dependent on key nutrients such as folic acid, iodine, iron, omega-3 fatty acids and zinc.
 
Healthy gestation and birth weight, healthy development of a baby's brain, visual motor skills and hearing and healthy hormone levels, energy and vitality in pregnant women can all be influenced by nutrition.
 
Digestive disturbances and discomfort can be common during pregnancy.  Choosing an iron supplement which is low constipation and low nausea, such as ferrous bisglycinate, can minimise digestive discomfort.,  Digestive discomfort can also be minimised by choosing a supplement which contains odourless fish oil, without a fishy after taste, and small, easy-to-swallow capsules.
Directions
Adults – Take 2 capsules a day with meals, or as professionally prescribed.
Warnings
If you have had a baby with a neural tube defect you should seek specific medical advice Consult your healthcare professional before use if suffering from a thyroid condition Always read the label. Use only as directed Vitamin supplements should not replace a balanced diet Drink plenty of water If you have any pre-existing conditions, or are on any medications always talk to your health professional before use Some products should be ceased at least two weeks before any elective surgery, please confirm with your health professional