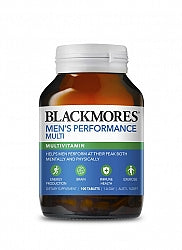 Blackmores Mens Performance Multi 100tabs
Only 0 in Stock. Be Quick!
Blackmores Men's Performance Multi has been scientifically formulated to support the nutritional requirements of men who need to perform at their peak, both mentally and physically, everyday.
Features & Benefits:
Blackmores Men's Performance Multi combines vitamins, minerals and herbs to support men's health, wellbeing and performance. It helps to support and maintain:
Men's reproductive and sexual health, and the production of healthy sperm

Energy production and exercise performance

The body's stress-coping mechanisms

Immunity and resistance to infection

Antioxidant defences against free radicals

Detoxification and other liver functions
Additional Information:
Blackmores Men's Performance Multi is a specially developed multivitamin formula that combines important nutritional and herbal ingredients to support men's health, wellbeing and performance.
The B-group vitamins play an essential role in the metabolic processes of all living cells by serving as coenzymes in the conversion of carbohydrates, proteins and fats from the diet into energy. They also support the functioning and maintenance of the nervous system, so supplementation may be beneficial in times of stress.
Vitamin C, vitamin E, zinc, manganese and selenium have antioxidant properties that support the body's defences against free radicals.
Zinc supports men's exercise performance (which may be impaired when zinc levels are inadequate), and helps maintain male reproductive health and the production of healthy sperm. Adequate levels of zinc are also required for the proper functioning of the immune system.
Tribulus and damiana are herbs that have traditionally been used to support the male reproductive system, where they are regarded as helping to maintain healthy sexual function. They also support the nervous system, particularly during times of anxiety, stress or fatigue.
Milk thistle has a strong free radical-scavenging and antioxidant action that supports the integrity of the liver cell membranes. It also supports the body's detoxification processes and supports the liver in its replacement of old and damaged cells with new, healthy cells.
Ginkgo

 
supports healthy blood flow and peripheral circulation by helping to maintain appropriate blood thickness (viscosity), and by supporting the normal contraction (vasoconstriction) and relaxation (vasodilatation) of the arteries and veins, and consequently may help support men's sexual function.
Directions
Adults – Take 1 tablet a day with a meal, or as professionally prescribed. Not suitable for use by children under 15 years.
Warnings
Always read the label. Use only as directed. If symptoms persist see your healthcare professional. Calcium, magnesium and zinc may decrease the absorption and efficacy of some medications. If taking tetracycline or quinolone antibiotics, bisphosphonates (osteoporosis drugs) or thyroid hormone separate doses by at least 2 hours.