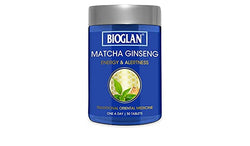 BIOGLAN Matcha Ginseng 50 Tablets
Ezy Pharmacy
Only 0 in Stock. Be Quick!
WHAT IS BIOGLAN MATCHA GINSENG FOR?
Matcha was first traditionally used by Japanese Monks to help support energy and concentration. Siberian Ginseng has been used for over 2000 years in TCM to increase vitality and energy.
WHY SHOULD I TAKE BIOGLAN MATCHA GINSENG?
Traditionally used in TCM and Japanese herbal medicine to help:
 Maintain alertness
 Improve mental and physical performance
 Increase vitality and energy
 Adapt to stress
WHEN SHOULD I TAKE BIOGLAN MATCHA GINSENG?
Bioglan Matcha Ginseng is a unique formula of two ancient herbs traditionally used for energy and alertness and is a one a day dose. Perfect for when you need an energy boost.
Adults: Take 1 tablet daily in the morning. Store below 25C
Contains tree nuts, soya bean products and sulfites. Always read the label. Follow the directions for use.