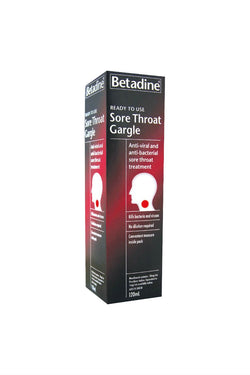 BETADINE Ready To Use Gargle 120ml
Ezy Pharmacy
Only 6 in Stock. Be Quick!
Betadine Ready to Use Sore Throat Gargle kills most bacteria implicated in sore throat (pharyngitis) and may be used as an aid in the treatment of such an infected sore throat. A convenient measure is included inside each pack to help ensure correct dosage.
Ingredients
10mg/ml Povidone Iodine equivalent to 1mg/ml available Iodine.