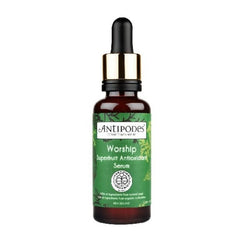 ANTIPODES Worship Serum 30ml
Only 2 in Stock. Be Quick!
Features
It is a high quality organic skin booster that is recommended for daily usage for best results
It fortifies the skin cells against early aging and free radical damage
It has been scientifically shown to inhibit oxidative stress in-vitro by up to 90% which makes it a really effective skin rejuvenating product
Suited to most skin conditions, especially oily.
Antipodes Worship Superfruit Antioxidant Serum helps to keep the skin looking young and fresh. It prevents skin aging and other problems by fighting the free radical damage and fortifies skill cells.
The best way to keep the skin looking youthful and fresh is by fortifying skin cells against early aging and free radical damage with the highly effective and potent water based serum that accentuates the antioxidant potency of New Zealand-grown superfruit.
Antopodes Worship Serum is enriched with superfruit complex Vinanza Oxifend Plus®, boysenberry, blackcurrant, kiwifruit and revolutionary antioxidant Vinanza Grape® from grape seeds extracts, this serum is formulated with special technique using only pure water for high natural bioactivity without any chemical residue. Along with shots of coffee berry, açaí and the essential fatty acid alpha lipoic acid (ALA), this is a premium quality organic skin booster for daily use.
Ingredients
Rubus Idaeus (Raspberry) Water*
Vinanza Oxifend*
Superfruit Complex Of Rubus Ursinus (Boysenberry) Extract
Ribes Nigrum (Blackcurrant) Extract
Actinidia Deliciosa (Vinanza Kiwi* Kiwifruit) Extract
Vitis Vinifera (Vinanza Grape Grape Seed) Extract
Galactoarabinan
Dehydroacetic Acid
Benzyl Alcohol
Guar Gum*
Xanthan Gum
Euterpe Oleracea (Acai Berry) Extract*
Caprylyl/Capryl Glucoside
Coffea Arabica (Coffee Berry) Extract
Tocopherol (Vitamin E), Essential Oil Fragrances Of Boysenberry & Blackcurrant: Citronellol, Geraniol, Isoeugenol, D-Limonene, Linalool.
*Certified Organic Ingredient.