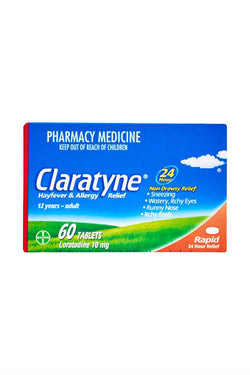 CLARATYNE 10mg Tablets 60s
Ezy Pharmacy
Only 38 in Stock. Be Quick!
Claratyne offers 24 hour relief from the symptoms of hayfever, year round allergies and chronic urticaria (hives); and it doesn't cause drowsiness.

One daily dose provides rapid relief from:

    Sneezing

    Runny nose

    Watery, itchy eyes

    Itchy rash
Warnings
This product should not be used when pregnant or breast feeding except when advised by your doctor or pharmacist.
Do not use this product:
For children under 12 years of age,
if foil seal is broken,
more than the recommended dose,
with other antihistamines.
Consult your doctor before use:
If you have liver disease.
Keep out of reach of children and consult your doctor or pharmacist if symptoms persist after 5 days. Contains Lactose.